The Church Pianist: Free Piano Arrangement (part two)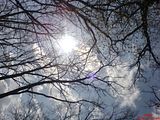 Part One of Sunlight
The chorus of Sunlight contains several twists and turns in the melody line making it tricky for the church pianist to manuveur through this peppy hymn. 
Simply play more blocked chords on the main beats (one.two, three, four).  I had to add an occasional  sprinkle of triplets in the right hand for a lively sound. The triplets also allude to rays of sunshine as the congregation happily sings…."…sunlight, sunlight, in my soul today!"
Complete audio for Sunlight Part Two (congregational accompaniment)
Just use your imagination to make the music come to life…causing the congregation to sing with more enthusiasm.
I hope the accompaniment ideas I've shared over the past few years have helped to stimulate the  creative thinking of other church pianists…encouraging them to be even more effective for the Lord as they serve Him through the ministry of music.