Bless the Lord arranged by Gina Sprunger (Book Giveaway)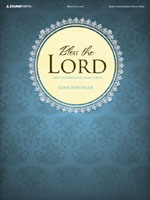 A book  giveaway…compliments of Soundforth (BJU Press).
*This book drawing applies to residents within the US
  "Bless the Lord", contains ten early intermediate piano arrangements by Gina Sprunger…an excellent addition to any church pianist's repertoire!
Gina's  introductions,  interludes and endings are a perfect fit to each arrangement.  I'll share some of my favorite picks through audio excerpts below. Just click on a song title to hear a sample.
Meditations on Praise (Bless the Lord, Holy is the Lord, Thank You Lord)
Meditation on When I Survey the Wondrous Cross
A Shelter in the Time of Storm
The remaining arrangements are:
Open My Eyes That I May See, Tis So Sweet to Trust in Jesus, We Three Kings, I Wonder as I Wander, Showers of Blessing (piano duet)
Book Drawing Guidelines:
1. Simply leave a comment to enter your name once in the drawing
2. To enter your name a second time…share this specific link for book giveaway on your blog, facebook or twitter and leave a separate comment saying you have done so.
*Winner will be chosen on May 2nd, 2011 Monday at 9pm EST
When Ordering Music From Soundforth:
*Special Note: If you order by phone and your order  is under $30…you can request US Mail to receive a cheaper shipping rate.
(Just realize there's no tracking available with the US Mail rate)
Call toll free:      1-800-258-7288
Tags: bless the lord, book giveaway, church pianist, gina sprunger, soundforth