Thursday, March 10th, 2011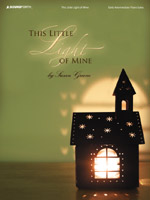 I'm sure any church pianist would be happy to have the following sacred piano book in their collection.    This Little Light of Mine contains early intermediate piano arrangements arranged by Susan Greene. (Soundforth is the publisher.)  Although written with the student in mind…these arrangements apply to all ages.
The following excerpt from the arranger can be found in the book:
"In This Little Light of Mine, you will find familiar gospel songs that students can use to minister in church, recital, or informal settings. These arrangements were written for my students over the years in coordination with the concepts taught in their third and fourth level method books. Arranged in order from simplest to most difficult (followed by two duets), these pieces "grow" with the late-elementary to early-intermediate student…"    ~~~~Susan Greene
Now I'll share my personal description of This Little Light of Mine".  Two words come to mind…animated and well-structured. Seven of the nine arrangements are very lively!  Most of the lively pieces do have a a slow verse, for a varied layout. Susan even included helpful fingering and pedal notations throughout the book.   Another neat feature… a list of the concepts covered in each piece can be found in the back of the book. 
My favorite pieces are "Tis So Sweet to Trust in Jesus" and "Countdown".  Hmmm…. I also like the two piano duets at the end of the book.   "This Little Light of Mine" was really neat with all the scale activity.  Ok, I like all of them! 
Click on the following title to see sample pages from "

This Little Light of Mine

".
Here's a list of each song.  Just click on each title to hear an audio sample.
'Tis So Sweet to Trust in Jesus
Tell Me the Story of Jesus (duet)
Soundforth has agreed to give away one free book of "This Little Light of Mine".   Here's how to enter for a chance to win this exciting sacred piano book:
Simply leave a comment on this article to enter your name once.  To enter your name a second time:  post a link to this specific article on your facebook,blog or twitter. Please leave a second comment on this article..showing you did so.
*This book giveaway is limited to within the US*
I will draw a name on March 20th (10pm EST)