Tuesday, January 24th, 2017
The following excerpt was taken from my Easter arrangement "Were You There" (to be published sometime in Feb. 2017)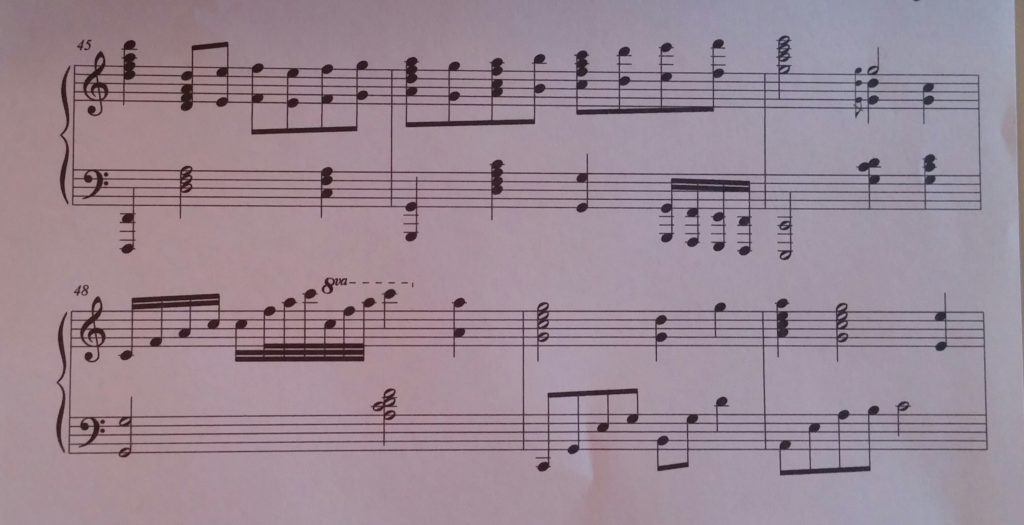 Many have asked how I play runs so fast and smooth.
My answer: fingering and body movement are important factors in creating a smooth and fast run.
Keep hands close to keys…wrist level with hands. Allow hands to follow shape of the note groups….turning thumb ahead of time to make smooth transition into next group of notes. (The thumb starts each group.) The body…waist up… should also follow the run….bend slightly at the waist to the right… and lean toward keys a little for full body support.
(Watch this video for demonstration of body support movement during similar runs) *Start about 1:10 on this video
Use fingering that follows the natural shape of the run…allowing for ease of movement throughout the run. ( suggested fingering for right hand run at measure 48… 1-2-3-5)
Notice the loose wrist and arm movement as I cross into each group. ( I prefer to play 4 groups of this run instead of 3 but trying to be reasonable 😉
The following video samples begin at measure 47  (first time…fast….second time…slow)
Fast Run
Slow Run