Friday, April 1st, 2016
How many church pianists have ever heard of the hymn "Ready"?  One of my readers recently  requested an offertory arrangement for this hymn.(actually just yesterday) Thanks Nancy!
I googled the hymn because I didn't recognize the title right away.  Once I saw the music score, I realized it was one I grew up with… but rarely heard.
One main idea comes to my mind after skimming through the words of each verse…Total Commitment to Christ No Matter What. How convicting when I insert the words "Am I…" before each phrase.
After reading the words to each verse I thought, "This is a hymn worth reviving!"   The writer of this hymn, Charles Tillman, was the son of an evangelist. He painted houses and was also a traveling salesman for a music company out of Raleigha, NC in the late 1800's.  Charles began his career as a singing evangelist in 1887. He died at the age of 82 in 1943.
Lyrics to "Ready"
Ready to suffer grief or pain,
Ready to stand the test,
Ready to stay at home and send
Others if He sees best.
Ready to go, ready to bear,
Ready to watch and pray,
Ready to stand aside and give,
Till He shall clear the way.
Ready to speak, ready to think,
Ready with heart and mind,
Ready to stand where He sees fit,
Ready His will to find.
Ready to speak, ready to warn,
Ready o'er souls to yearn,
Ready in life or ready in death,
Ready for His return.
Refrain:
Ready to go, ready to stay,
Ready my place to fill,
Ready for service, lowly or great,
Ready to do His will.
I hope other church pianists can use this old but wonderful hymn to enrich their music ministry at church.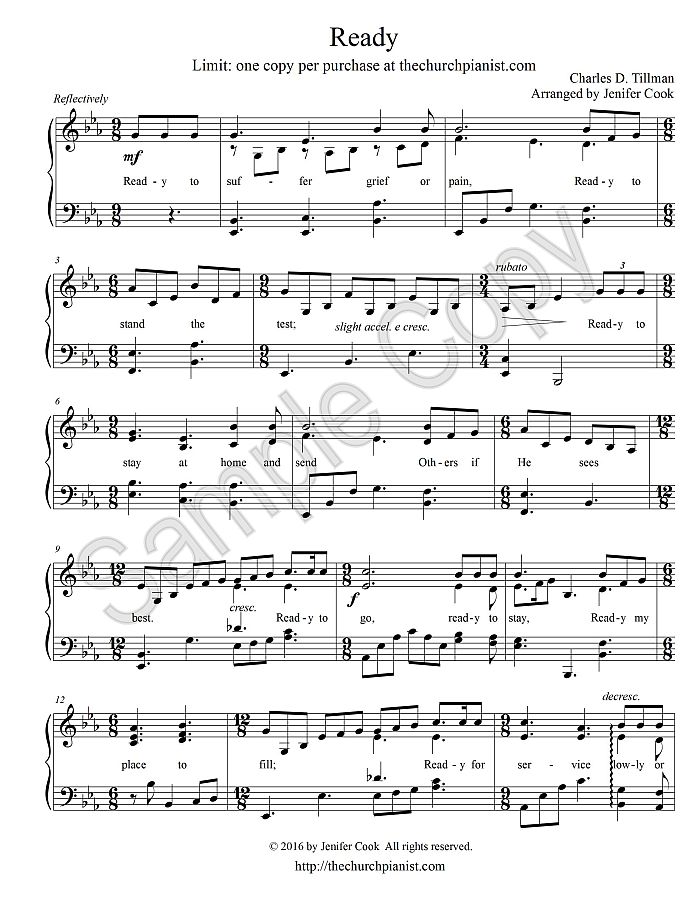 Audio clip: Adobe Flash Player (version 9 or above) is required to play this audio clip. Download the latest version here. You also need to have JavaScript enabled in your browser.
Complete audio below (youtube link)