Wednesday, February 13th, 2013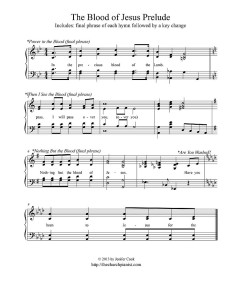 Just thought I'd share a free sheet with key changes to connect the following hymns for a  piano prelude on the "Blood of Jesus".
(Our prelude lasts anywhere from five to ten minutes…depending on how soon I can make it to the piano.)  I usually play two verses per hymn.
Prelude List:
Power in the Blood (B flat major)
When I See the Blood ( C Major)
Nothing but the Blood ( G Major)
Are You Washed in the Blood? (A flat major)
The sheet contains the final phrase of each hymn; followed by the key change to connect each hymn in the list above.
Click here to download Free Piano Prelude on the "Blood of Jesus"