Thursday, February 9th, 2012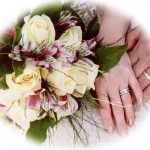 Since I've been sick all this week…I've had a little spare time to write music.  One of my music writing projects has been to write a  piano arrangement  of the traditional "Wedding March" recessional.  (This is the march that is played at the end of the wedding)
There's nothing wrong with the traditional arrangement.  I'm just ready for a change. The last few times I played this song… it sounded so repetitive. If I could just add some different chords and melody twists.
It's a challenge to draw this song to a close at just the right moment. I always work out my escape hatch (premature ending) in advance for short weddings.  (I'll share alternate repeats and endings in the finished arrangement).
I decided to google piano arrangements for the "Wedding March". What a variety of styles! I heard everything from slow romantic to party time renditions of this traditional tune.   It made me think…"What mood am I trying to create?"  I think…Happy! Yeah! I'm married! Joyful!
Therefore… a happy, joyful, triumphant mood…right?  So, I'm trying to add some spice to the already traditional "Wedding March" but not overdo it… or my changes will sound out of place/out of character.
This upcoming  arrangement of the "Wedding March" will be available for sale very soon.  I will offer the arrangement at a discount for a limited time.
Click here to see new arrangement of "Wedding March"