Tuesday, October 11th, 2011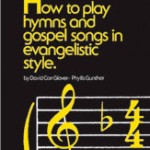 Just discovered a practical instructional book on  improvising hymns found on Alfred Publishing's site.
This book is a great starter for the intermediate pianist who wants to improvise from the church hymnal.  The pianist will learn how to do the following:
*Add tenor to the right hand
*Double the bass note
*A couple of easy-to-learn  left hand fill-in ideas
*PLUS…a collection of hymns already arranged for the intermediate church pianist using the improvising ideas that are taught in the book.
Click on the following book title to view the book and sample pages!