Thursday, January 15th, 2015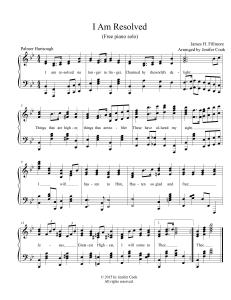 I lied! 

  I said I would publish at least the verse of I Am Resolved tonight…wound up finishing the chorus too…but don't think you'll mind

I've been working on fill-ins with my most advanced hymn playing student. She plays for chapel at school and has also begun to play for church when the main pianist (her mom) is out of town or sick.  She's doing a great job but has such a zeal to advance her hymn playing.  Well….LOVE helping her with that!
Below is a result of her lesson this week

Click here for free piano arrangement of I Am Resolved