Saturday, January 12th, 2013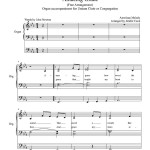 This free organ arrangement of "Amazing Grace" for unison congregation or choir goes with the piano arrangement of "Amazing Grace" which I recently published for FREE.
Please understand…I am not an organist and it's my very first attempt at writing an organ arrangement!
I'm glad one of my readers pointed out the need for organists needing the same arrangement in order to prevent chord clashes…an excellent observation! Our church doesn't have an organ…just two pianos (one being a digital).
I thoroughly enjoyed creating this organ arrangement!
Click here to download FREE organ arrangement of "Amazing Grace"
Amazing Grace: Complete Audio
Audio clip: Adobe Flash Player (version 9 or above) is required to play this audio clip. Download the latest version here. You also need to have JavaScript enabled in your browser.