Monday, July 25th, 2016
At this point in time, I'm the only pianist at our church who plays for the special music.  Looking forward to other pianists getting involved in this area as they become more comfortable with playing in the service.
Music can pile up REALLY fast without a place to call home.  For the past several months, I've been using a six pocket binder that has proved VERY helpful and thought I'd share it with my readers.
I know this particular binder may not work for everyone but works great for my needs 🙂  (Binders with more than six pockets can be found on Walmart's site)
Here's a picture of my binder from Walmart.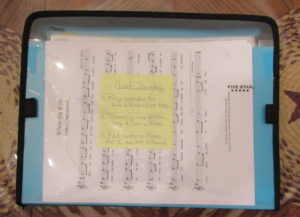 Before watching this video…when you hear me mention "floppy disk"…that's what our digital piano uses to play recordings.
Please feel free to share your own organization ideas that work for you!