Thursday, August 13th, 2015
Using the Hymnal to Sing Like the Choir and Not Like the Congregation
Not everyone can arrange on the spot for choir but with a little advance planning, a simple yet beautiful choir arrangement can be created!
This post will cover how to create a two-part  choir arrangement for ladies and men.
Materials needed:
Several minutes
Pencil or pen
Slightly enlarged copy of a hymn from the hymnal.  (the enlarged copy allows room for the arranging marks; or you can can type them in)
Directions:
1. Look for a hymn with close harmony (3rds) in the treble clef…like this:

2.  Harmony possibilities:
Men on melody (top note)  Ladies on alto (bottom note)
Ladies 2 parts on line one and Men 2 parts for line two
Unison line one then 2 parts line two
Children's choir sing melody and adult choir sings alto for verse & chorus
Flute plays alto (octave higher)  while children or ladies sing unison for
a verse.
As you can see….SO many ways to dress up a simple hymn without it sounding like a regular congregational hymn!
Since we only have a half hour choir practice…we prefer to pre-arrange these simple hymns ahead of time instead of having the choir pencil in the layout in their hymnals.  So…I'm sharing this simple hymn arrangement with you for "Jesus Loves Me" below for free 🙂  (Sorry it doesn't include piano accompaniment…not enough minutes in the day for that)  🙂
Oh!  But wait a minute!  Go on a hunt in your hymnal to find more hymns with close harmony (3rds) in either the verse or chorus and start arranging!
Couple suggestions:  When I See the Blood, Standing on the Promises
*Click on the title below this picture of music… for free PDF download of  Jesus Loves Me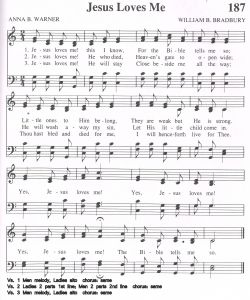 ⇒JESUS LOVES ME (FREE DOWNLOAD)⇐
*I want to thank Mac & Beth Lynch for their wonderful, practical workshop entitled "On the Spot Arranging" for choir.  They are also working with a small church choir of their own and the information was very relative for me as well as others.   (Majesty MusiCarolina Conference occured July 30-31, 2015 in Raleigha, NC)