Sunday, February 26th, 2017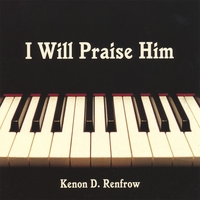 Just happened across a nice CD for church pianists while trying to find sheet music for Kenon Renfrow's piano arrangement of "Fairest Lord Jesus". The CD is called "I Will Praise Him".
I'm not sure at this point if Kenon has sheet music for Fairest Lord Jesus but will find out asap. I heard this arrangement on Abiding Radio this morning while getting ready for church and just LOVED it!!  Ah…just found most of the arrangements to this CD on youtube!  Listen to Fairest Lord Jesus HERE 🙂
I bought Kenon's CD entitled: "I Will Praise Him" which by the way is a beautiful sounding CD. I listened to sound samples HERE and discovered that Kenon's site: Piano Music Now had the CD's for a very reasonable price.
A great piano CD for any church pianist looking for fresh stylings to hymns.