Posts Tagged 'arranged by jenifer cook'
Sunday, September 24th, 2017
Wednesday, October 26th, 2016
I absolutely LOVE the words to this Christmas carol, Who is He in Yonder Stall?  The last verse into the chorus is my favorite part as seen below.
A big thanks to Mary Lynn Van Gelderen, one of my special piano friends, who helped me with the editing process. Mary Lynn said the arrangement  fit her hands perfectly 🙂
I visualized the lyrics of the first and  last verse when creating this arrangement.
Verse One:
Who is He in yonder stall
At Whose feet the shepherds fall?
Who is He in deep distress,
Fasting in the wilderness?
Last verse:
Who is He that from the grave
Comes to heal and help and save?
Who is He that from His throne
Rules through all the world alone?
Refrain:
'Tis the Lord! O wondrous story!
'Tis the Lord! the King of glory!
At His feet we humbly fall,
Crown Him! crown Him, Lord of all!
Words & Music by Benjamin Handby (1833-1867)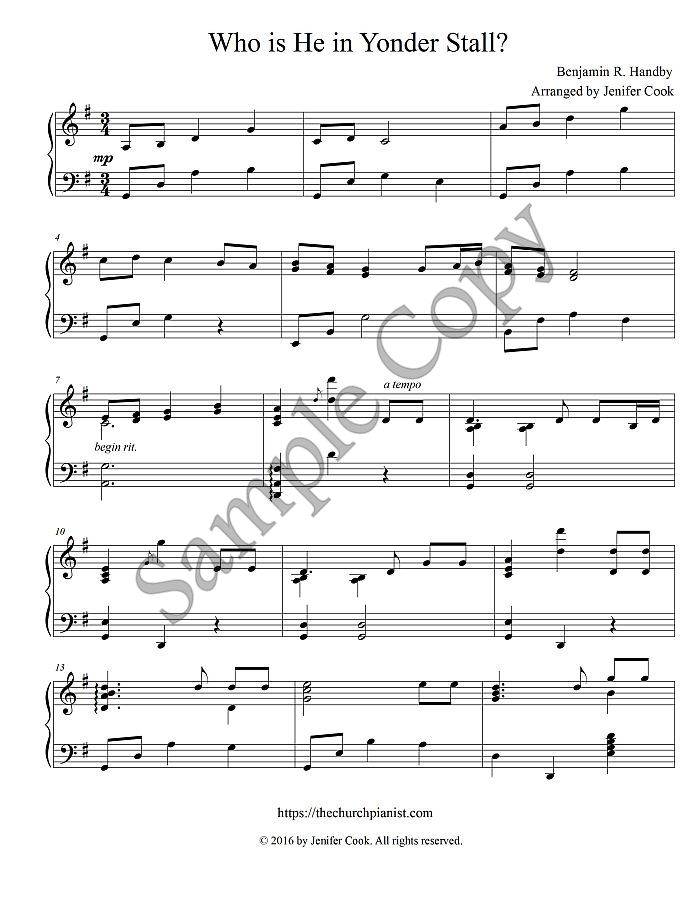 Audio clip: Adobe Flash Player (version 9 or above) is required to play this audio clip. Download the latest version here. You also need to have JavaScript enabled in your browser.