The Love of God: Advanced Piano Solo: Published!
Just published the sheet music for the advanced piano solo of "The Love of God".
I love to play runs as you will notice in this arrangement.  I guess you could say this arrangement is "overrun" with runs 😉
Seriously,  I tried to bring the words to life in this beautiful hymn.
"The love of God is greater far Than tongue or pen can ever tell;
It goes beyond the highest star And reaches to the lowest hell.
The guilty pair, bowed down with care, God gave His Son to win;
His erring chile He reconciled And pardoned from his sin.
Chorus:
The love of God, how rich and pure! How measureless and strong!
It shall forevermore endure, The saints' and angels song."
 The touching message of verse three was found written on the wall of an insane asylum….penned by a male patient.  These soul-stirring words were discovered  at the time of his death.
"Could we with ink the ocean fill, And were the skies of parchment made,
Were ev'ry stalk on earth a quill, And ev'ry man a scribe by trade,
To write the love of God above Would drain the ocean dry;
Nor could the scroll contain the whole, Tho' stretched from sky to sky."
What an awesome message all wrapped up in one verse!  I would venture to say this man was in his right mind when he composed this heart warming message.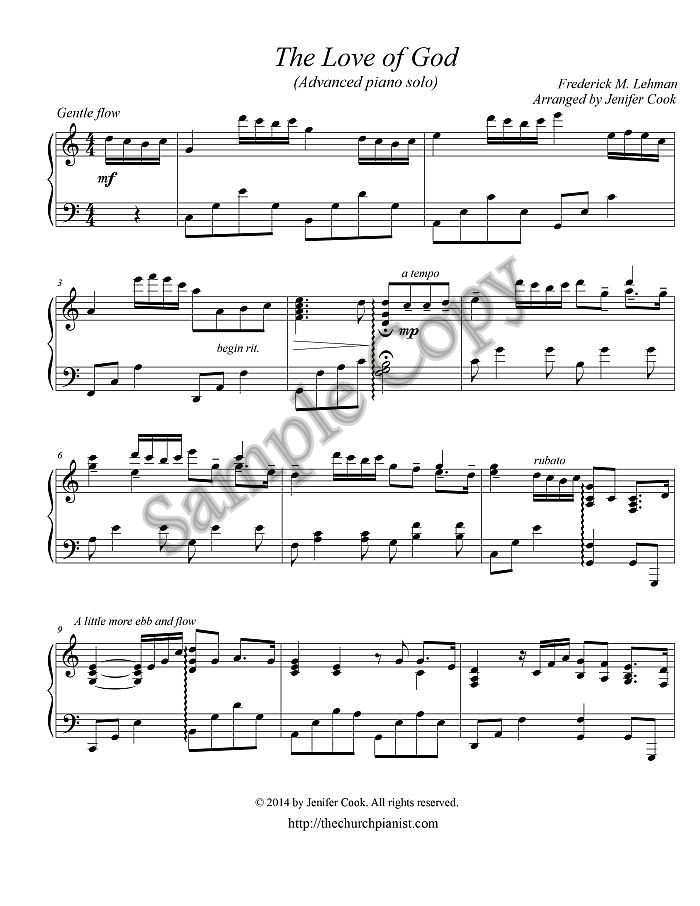 Hear complete arrangement on my youtube channel
*Special note:  I will be providing an article with free fill-in alternatives for the runs to those who prefer the less busy passages 🙂