Highlights from Christmas at Home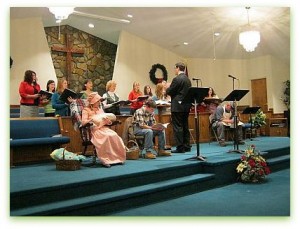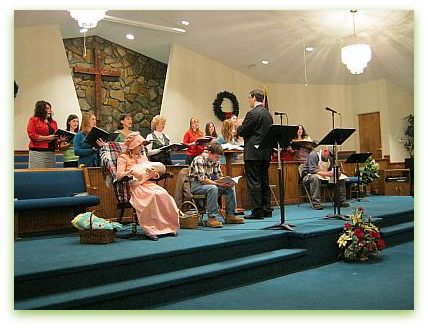 Our church just performed Christmas at Home last night. The Lord really blessed through this heart-rending story packed with a powerful salvation message.
This particular cantata was done in Reader's Theatre style…actors face audience as they speak.  (Our actors tried to warm up the play by interacting more than the normal reader's theatre style.)  They did a great job for starting a short while before the play. We plan to have our actors memorize their parts for any further programs.  Memorizing parts will give them more opportunity to focus  on expression and interaction/reaction.  So important!
I'm hoping to see them do this one again in full-acting style!
I'll share a quick story about this particular cantata.  Years ago, when my son was around 4 years old…our church in Charleston (Northside Baptist Church)  did this play.  There's a scene where the doctor amputates the drummer boy's leg with a saw. (not literally of course).  My son thought it was real.  He wouldn't talk to our friend (the doctor) for the longest time because of this scene.  We finally convinced him that the doctor was only pretending 🙂
I received permission from Majesty Music to post the cantata on youtube.  Since I'm still in the editing process of the tape…I'm posting several drama highlights from the cantata. You can view them below. The final video presentation will share highlights from the entire cantata.
Another nice Christmas cantata from Majesty Music is Born to Die.  I hope to use it for our church within the next several years.
Have a very merry Christmas!  I'll post again sometime next week.

Tags: christmas at home, majesty music