Free Arrangement for Church Pianists! Amazing Grace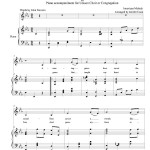 Introducing…a free piano arrangement of Amazing Grace for unison choir or congregation.  It's nice to be able to sing parts but most congregations of small churches seem to sing unison.
Church pianists can enliven hymns such as Amazing Grace by playing with mucho enthusiasm!  I understand not every church pianist knows how to improvise from the hymnal.  It took a lot of practice for me to feel comfortable adding unseen notes while playing from the hymnal.
Improvising tip:  Grab an improvising idea from someone else's arrangement and try applying to a similar congregational hymn with same time signature.
Stick with that one idea for a while until it becomes natural to use…then on to the next improvising idea!
Hope you enjoy this arrangement.  Since most people are very familiar with this hymn, I took more liberty with the piano accompaniment.
Warning:  This arrangement does not support the four-part style in the hymnal.
Question from a reader:
I love these ideas but at my church both piano and organ play. I find it hard to take any liberties since I am not playing alone. Any suggestions for those of us who would love to add flare to hymns but still have to keep the organist in mind?
Answer: (at least for this arrangement)  I will soon provide a free organ arrangement of this particular version of Amazing Grace.
Audio:
Audio clip: Adobe Flash Player (version 9 or above) is required to play this audio clip. Download the latest version here. You also need to have JavaScript enabled in your browser.
Extra tip:  This arrangement could also be used as an offertory using the following suggestion:  Allow a flute or violin to play the vocal score since the piano accompaniment doesn't contain enough melody.