Ready-Made Hymns: Preview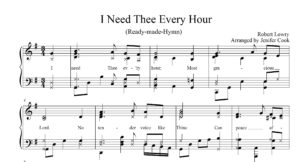 This post is in reference to yesterday's article about Ready-Made-Hymns.
How do you like this look? The "x" marks indicate original notes to help the church pianist see what note changes were made.
Is this beneficial to you? Feedback would be appreciated! Thanks for all the comments yesterday!  Very helpful!  🙂
Just click on the following image to enlarge for easier viewing.

*Special note: THANKS for the feedback! After reading the comments here and on facebook….I will be putting these type of easy-to-play congregationals into print instead of by hand. I will do away with the original notes from the hymnbook and ONLY type in my (hopefully) easy-to-play congregational/piano solo arrangement. Thanks again for your helpful comments!