Input Needed from Church Pianists! (for Upcoming Live Facebook Session)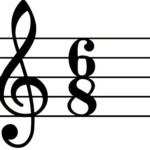 Need input from all you church pianists out there!
I'm working on the handouts that I will provide here on my site for  the upcoming Live Facebook session on October 12th 8pm EST.
Trying to choose a "slow" type hymn in 6/8 timing that's familiar to most of you. Any suggestions?
Thanks!