No Transposing Needed! Free Prelude!

Are you a church pianist that doesn't know how to transpose?  Do you choose hymns for prelude that are in the same key for this very reason?  I have good news for you!
It is not always necessary to transpose from one song to the next if you go up a perfect fourth between each hymn.  I'm providing a free prelude below but read the important info below before you hurry to print the free prelude.
~   ~   ~   ~   ~   ~   ~   ~   ~
Going Up a Perfect 4th Interval From One Hymn to the Next Hymn:
What You Need to Know:
1. An interval is the distance between two notes
Example:
C to D is a 2nd interval because you count from 1 t0 2 to go from    C to D.
C to E would be a 3rd interval and C to F a fourth.
2. Within every key/scale… the fourth interval is called a perfect fourth which consists of five half steps.  So… from C to F is a perfect fourth.  Why is it called a perfect fourth?  Just accept it and go on or if you're curious…check out the following links 🙂
Quick quiz in Creating Perfect Fourths:
What is 5 half steps (a perfect 4th) above F? Answer is:  B flat (see picture below)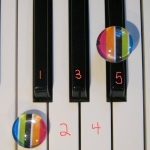 (Are you noticing that we're going in order of the flat keys as we go up a 4th?)
The key of F Major has one flat, the key of B Flat Major has two flats.  Cool!
Ok….so what is 5 half steps (a perfect fourth)… above B flat?  You got it!  E flat and the key of E flat has three flats.
Now…let's apply this "no transposing" concept using the following  hymns which are a perfect fourth apart for a nice topical prelude!
Click on each song title to download for FREE!
Free Prelude for Church Pianists:
Since I Have Been Redeemed – F Major
Power in the Blood – B Flat Major
Saved by the Blood – E Flat Major
Tags: church pianist, free prelude, no transposition needed, perfect fourth, transposing, transposing hymns