Free Piano Hymn Arrangement: The Sands of Time are Sinking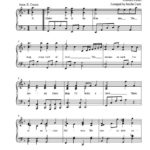 "The Sands of Time are Sinking" dates back to the 19th century.  Anne Cousin, the daughter of a doctor and later the wife of a Pastor, wrote this hymn based on letters and deathbed sayings of another Pastor name Samuel Rutherford. The original hymn had nineteen verses! Anne was careful to not copy Samuel's words verbatim.  She  used poetic images of her own to replace some of Samuel's sayings.
Anne's purpose of this hymn was to show the "beautiful Christian reflection on death and what comes after, and on the beauty of the Savior." Kevin White
What a beautiful hymn to use for a funeral service.  Someone in the recent past asked if I knew of a piano arrangement for this song.  My online search yielded no results. The individual needed the song pronto…so in a few spare minutes….I jotted this arrangement down and provided the person with the following hymn.
Maybe other church pianists can make use of this free hymn for a funeral service or general worship.