Wednesday, August 9th, 2017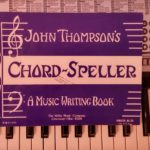 Need to brush up on chord theory?
I have a chord speller book by John Thompson that I use to teach my church pianist students who need to brush up on theory.
This book  provides foundational information needed for the church pianist to effectively improvise.
 Short synopsis of book:
John Thompson's Chord-Speller
The purpose of this book is to present the Triads (including the Dominant and Diminished Seventh Chords) in a way that will enable the student to read them, write them and recognize them by sight or sound.
Having a working knowledge of  scale and chord structure will help the church pianist with improvising hymns.
If you're interested in seeing sample pages or purchasing the book…just click on the image of the book above.
I'm always looking for simple-approach type books and this one fits the bill!  (I don't get paid to sell this book)  🙂
This book has been around for awhile so you may find it on Ebay or Amazon.