Wednesday, February 10th, 2016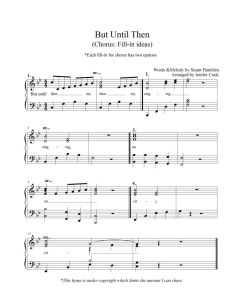 One of my readers requested fill-in ideas for the song But Until Then.  I already shared fill-in ideas for the verse in a previous article HERE.
The chorus of But Until Then may be a challenge for church pianists who don't feel comfortable improvising.  The fill-in notes are what give the music a forward motion; adding life to the hymn…IF the fill-in notes are rhythmically correct 😉
Since this particular hymn is under copyright…I'm limited on what I can share according to the US Copyright Office.
For a simple explanation, I will paste and copy a portion of the description for the Fair Use Act from US Copyright Office website:
Fair Use Copyright Act
Notwithstanding the provisions of sections 106 and 106A, the fair use of a copyrighted work, including such use by reproduction in copies or phonorecords or by any other means specified by that section, for purposes such as criticism, comment, news reporting, teaching (including multiple copies for classroom use), scholarship, or research, is not an infringement of copyright.
The amount being considered "fair use" is up for debate but I try to stay on the conservative side of usage which explains why I presented a "cut and paste" layout of only the long held words.
Click below to download your free copy of:
But Until Then (chorus) fill-in ideas