Friday, January 15th, 2016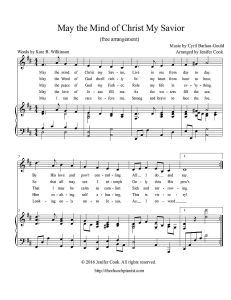 I love to look through old hymnals for long forgotten hymns that I can try to revive.
But I stumbled across this forgotten hymn in one of my devotional books this week, entitled, "Amazing Grace 366 Inspiring Hymn Stories for Daily Devotions" written by Kenneth W. Osbeck
I absolutely LOVE this book and not sure how I acquired it.
"May the Mind of Christ My Savior" had two authors: Words by Kate Wilkinson and Music by A. Cyril Barham-Gould (what a long name!)  I couldn't find much information about either author but had to share this hymn loaded with rich meaning!
Here's an excerpt from my devotional book which introduced this hymn…
"Each day our prayer life should include the request that the Holy Spirit reveal the mind of Christ to us.   It is vitally important that we nourish our minds daily with quality materials_ things "that are just, pure and lovely."  Philippians 4:8
Click on title below for FREE PDF:
May the Mind of Christ My Savior (lyrics included)