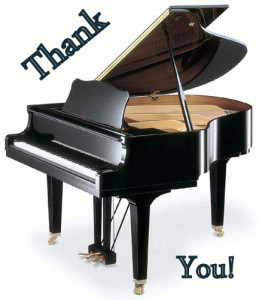 I am so thankful to have found your website. I've learned so much from   you.
I volunteer playing the piano for service at my church but can only play what is written. I wanted so much to learn to improvise hymns, but just didn't know how. Seeing your music improv samples and even your full pieces have been such a blessing to me. Thanks so much for taking the time to do this for us. Your music is so beautiful and so God honoring.
May God bless you,
Susan
Thank you for the tips about playing fast arpeggios. It helps to know
that I just need to slow down, be patient, and with enough practice I
will eventually get there. 🙂
Thanks again,
Ashley
I have followed The Church Pianist on the web for quite awhile. I appreciate all you are doing to
help provide information and songs for the church pianist.
You do such a wonderful type of hymn arrangements. I am so thankful for you and all you do to
provide hymns to download. I purchased your Christmas CD sometime ago. Great!
Barbara
I am a 24 year old advanced pianist and church pianist. I was introduced to your site by a friend. Wow, am I glad she told me about it!
I have learned a lot, and I especially
love
your advanced piano arrangements!!! It is difficult to find nice advanced piano arrangements. I like the quality of yours. It seems to me that often other arrangers will come up with a theme sound, if you know what I mean, that will be at the beginning and end and woven throughout, and by the end of the song I've heard more of the theme than the song itself.
You make yours very beautiful and majestic without detracting from the melody and the message of the song. I will always be interested in more advanced arrangements from you.
Ashley
I am so thankful for your beautiful piano arrangements. The first time I downloaded the music to "The Old Rugged Cross," and sat down and tried to play through it, I nearly cried. It was such a gift to me to be able to play something so beautiful and yet not too far above my level.
It is also such a blessing to me to take "piano lessons" through your website. I am helping to play for a smaller congregation in Montana, and you have added much joy and much benefit to my efforts.
Thank you so much, and may the Lord bless you for such a wonderful ministry.
Connie
I totally agree with Connie. I played your version of Just As I Am in church yesterday. I am thankful that you continue to provide assistance to those of us who want to serve the Lord and our congregations.
Dorothy
Hi Jenifer, just wanted to share this story with you. Yesterday for offertory during the AM worship service, I decided to play your At The Cross arrangement.
We had a fill-inn speaker for the day, and he loved your arrangement so much, he asked me to play it again right before he spoke and then he wanted me to play it during the invitation too. It all went well. I did change it a little during the invitation, but it was still quite moving. Thank you so much for your arrangements, they truly are a blessing to me and to the people at my church.
Ellen
Hi,
I am serving as pianist at my church in Indonesia. I really found your blog very helpful and I love your arrangements.
Cecilia
Hello! I'm a friend of Erica , and she sent me to your website! I'm a church pianist also. Your site has some great tips! I will definitely check back and send this site to some friends…who are pianists as well!
Miranda
I wanted to send a quick note to thank you for your website and arrangements. I have purchased several arrangements and enjoy them very much. Also, I love the free examples and arrangements.
I check your website each week to find new material. I may not comment on the items but I wanted you to know that I read them and use them.
Thanks for the ideas, arrangements, etc.
In Christ,
Adam
I just stumbled across your website. Wow! I have played Jesus Paid it All as well as I Shall Know Him for preludes and am working on the Old Rugged Cross which is a little more challenging.
Thanks for your music.
Louise